ARTISTIC DIRECTION
Achille Schiavone – I was born in Turin in 1972 from parents emigrated from Montaguto (AV), a small village in the Irpine mountains. My being Queer activist has gone through various phases, including the participation in the Circolo Maurice LGBTQ of Turin (which, among the many activities, allowed me to experiment in the role of group facilitator with the sociodramatic methodology) and the TurinOrto group of urban horticulture (which opened me to the world of permaculture and the change of perspective on the plant world). Since I was a child, sometimes following my mother at work, I have been in contact with many people with psycho-physical diversabilities an extraordinary experience of growth experienced in childhood. I am passionate about cinema, I work at university as professor of animal nutrition and I live with two fabulous cats: Leo and Brio.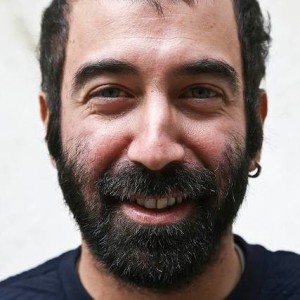 Murat Cinar – Murat Cinar is a journalist, videomaker and freelance photographer. After studying Economics in Turkey, in 2002 he moved to Italy, where he specialized in shooting and video editing, photography and journalism. He collaborates with several Turkish newspapers, including KaosGL, BiaNet and Sendika.org, and with newspapers, news agencies and Italian radio stations such as Pressenza, Caffe dei Giornalisti, Il Manifesto, Radio Onda d'Urto, Radio Onda Rossa and Radio Blackout. He wrote "A Guide to Understanding Turkey's Contemporary History" (Simple 2016) and "Every Place Is Taksim" (Rosenberg & Sellier 2018), with Deniz Yücel.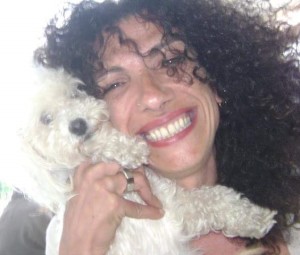 Veet Sandeh – Born in 1964 in Catania and moved to her adopted city Turin in 1979. Queer activist for over 30 years and eclectic artist. She has experience in theatre, dance and cinema with the production of her docudrama "Metamorfosi, la strada dell'eccesso porta al palazzo della saggezza" which celebrates its 10th anniversary in 2015. Specialist in holistic disciplines and meditation teacher. Lives with her fabulous poodle Gina.

COLLABORATORS
Tosca Cellini – social media manager. Born in 1999, graduate in Communication Sciences at the University of Turin. He joins Arcigay Torino 2017 where he manages social communication, is part of the board of directors and is an active member of the training group.
Riccardo Zucaro – press office. Born in 1987, copywriter, press officer and social media manager. Since 2014 she has worked with ONG for human rights projects, urban and artistic regeneration and support for marginalized individuals
Susi Monzali – Susi likes to open windows and cause drafts that mess up hair and ideas. Working around the world has the opportunity to get to know people and experiences, including bridges, exchanges, mixes. This is what makes independent cinema that crosses borders, changes old paradigms, mixes languages ​​by overcoming stereotypes, generating new imaginations, highlighting realities in the shade, offering new horizons. For her, Divine Queer Film Fest is a good ground for experiments of cultural hybridization.
Simone Li Gregni – digital content manager. Turin – 1980, graduate in Intercultural Communication and passionate about photography for many years, thanks to his studies he begins to conceive the image as a tool to study and understand the other. He experiments and implements this approach in all his photojournalism.
GIURIA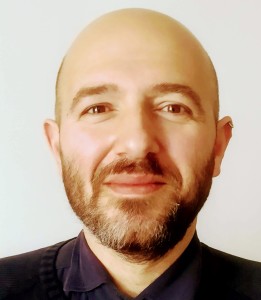 Indrit Aliu – Born in Albania, class of 1979. I miss the sea, but Liguria is close by. As an intercultural mediator/educator I have had the opportunity over the years, to meet many people, who have left a mark on me. All visible to those who, 20 years ago, met a homophobic kid, who went from Balkan machismo to being a trainer on interculturality and intersectionality. Besides that I also have a degree in film history and criticism, which doesn't hurt.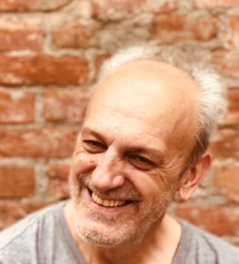 Roberto Roversi – born in Ferrara in 1961. Graduated in Law with a thesis in Philosophy of Law. Since December 2014 he has been president of the national association UCCA (Unione Circoli Cinematografici Arci). From 2007 to 2010 he was president of Arci Ferrara, for which he served as cultural director until 2016. From 2002 to 2017 he served as artistic director of the international independent rock festival "Ferrara under the Stars." Since 2017 he has directed the "ViaEmili@DocFest" in Modena. He has been involved in cinema for more than 20′ years, as a distributor of short films and an exhibitor (Cinema Boldini, 2007-2016 and Multisala Apollo, 2006-2013), organizing festivals and other cultural events..
Grazia Fainelli known as Grace, holds degrees in Asian and African Languages and Cultures and Public and Political Communication with a thesis on the representation of migrants and migration in the Italian media. A communication expert, copywriter and creative. She is active in feminist and anti-racist movements and her work focuses on language, identity and representation.
Diandra Elettra Moscogiuri – class of '92, originally from Manduria, she divides her career between two great loves: on the one hand there is cinema, on the other literature. An actress, screenwriter and producer, in 2017 she founded the film production Demodami Studios together with director David Milesi. Their first film as producers, Dead Star, is almost ready. Diandra is also a writer: her first two novels, Tequila Suicide (2014) and Artemis' Cabaret (2019), are already in their third editions.
Michele Pipia – Member of the ARC OdV Association, among his various association commitments, he is in charge of organizing the Sardinia Queer Film Expo, a festival dedicated to queer cinema and short film competition that has been held in Cagliari for 20 years. An expert in communication, marketing and event organization, he is leading the "Sardinia Friendly" project, aimed at promoting Sardinia as an inclusive tourism destination; he is also the creator and curator of the Rainbook literary festival.